Home > Our Portfolio > Websites
Rodovid Genealogy Portal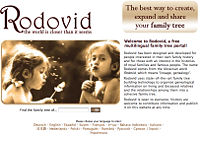 Rodovid is the most complex project on Beagle's record so far. The Web portal was launched in 2005. Originally created in one language, Rodovid is now available in 22 languages.
Beagle developed family tree software for Rodovid that allows to create family trees containing thousands of people in dozens of generations within seconds. A family tree is automatically generated in a graphical form on every person's page. All the family trees are colored and show people belonging to the same lineage in the same color. This revolutionary feature greatly simplifies reading the trees. The website supports import of GEDCOM files.
Rodovid is based on a content management system, which allows the users to create, edit, delete, and merge records. The website's content is a collaborative effort of thousands of people working from different parts of the globe.
We designed and developed Rodovid for people interested in their own family history and for those with an interest in the histories of royal families and famous people.