Home > Our Portfolio > Websites
Website of Andre Siderskyi's Yoga Studio
http://www.yoga.ua/ru/Заглавная_страница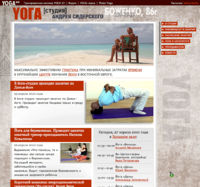 Andre Siderskyi's Yoga Studio is based in Kyiv, Ukraine. It is the largest yoga center in Ukraine and in Eastern Europe. Students can attend various classes there, including yoga classes taught in accordance with the methodology developed by Andre Siderskyi (the so called Yoga 23 or Y23), as well as Divya Yoga, Pilates, and Qigong classes.
The website provides information on the studio, the types of classes, teachers, and the schedule of classes. Photo galleries on the teachers' pages are presented in a new way, the same is true for photographs on news pages. It is now possible to embed videos from other websites.
The schedule of classes is powered by Google Calendar.
The website runs on MediaWiki server software.
The website of Andre Siderskyi's Yoga Studio was launched on 26 April 2010.
Starting from November 2010, the website is entirely administered by the customer.